OUR BUSINESS MOTO AND PERSONAL GOALS:
We fulfill dreams of personal freedom – it's our purpose, and we take it seriously. And while freedom means different things to different people, it's a bond that brings Harley-Davidson® customers, employees, and enthusiasts together.
Meet the Team at Harley-Davidson®of Dallas.
Motorclothes
Parts
Sales
Service
Service and Parts Director
Shawn Feiock
Meet the wizard behind the service curtain at Harley-Davidson of Dallas. He's been working for Harley since 2002 and developed a real passion for customizing motorcycles along the way. His ride of choice is his Softail Nightrain. In 2012, Shawn placed 7th overall in the men's Spartan Race World Series and was one of the first 10 people to be selected for the official Spartan Race Pro Team. He's traveled around the country racing but has now found a better lifestyle fit with Crossfit. And he's the shop's official Baconator - eating bacon with everything or nothing everyday.
Assistant Service Manager
Mat
A true Texas native, Mat has been riding motorcycles since he was three years old (on his PW-50). After graduating from MMI he advanced from imports to Harley's where he has made a career for himself that supports his personal need for the thrill of the ride. You'll find him heading up a great deal of Service Operations at the dealership while also specializing in motor builds and Dyno Tuning. His Custom 883R is always parked on the side of the dealership during business hours and he can typically be seen pulling a stunt or two on it at the end of the night in the parking lot before getting on the road for home.
Warranty Administrator
Bailee
Bailee is the heart beat of the Service department. When she isn't making sure our customers get their warranty's filed properly she is hanging out with her beautiful daughter. She loves Dr.Pepper and Dry Shampoo! Being a mom is her favorite part of life.
Master Service Technician
Hatem
A truly skilled technician, Hatem has been with Harley-Davidson for 13 years and ee lives by the philosophy, 'If you don't have time to do it right, you don't have time do it twice' and his work ethic shows it. Hatem takes great pride in providing the best service on his customer's Harleys. Outside of work, it's all about his family, live music, skateboarding and sports.
Service Technician
Nick
After serving two tours with the US Army, Nick was drawn to Harley-Davidson of Dallas because of the people and the environment that it brought o his life. With a million dollars Nick would give back to the disabled veterans and help as many as he could.
Service Technician
Adrian Macias
Adrian is one of three featured employees on our Harley-Davidson of Dallas Military Back T-Shirt. Adrian served in the Marine Corps for eight years. If Adrian could spend one day with anyone he would spend the day with Al Capone while watching his favorite movie Scarface.
Collision Manager
Brandon W.
Brandon grew up East Texas, hoping to one day become a professional fire fighter. However, he found his true passion when he started riding his first motorcycle at age 4 and he still rides to this day. When not cruising around on his 2010 Fatboy, Brandon is busy in our collision department getting you ready to ride again.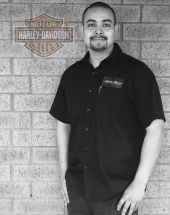 Service Lot Technician
Marcus
Marcus was driven to Harley-Davidson of Dallas with his desired to "own and ride the Cadillac of motorcycles." Originally from Lubbock Marcus came to Allen with his wife, as a hard working man that could do anything he put his mind to with a desire to travel to Honduras to learn the culture.
Shine magician
CJ
When your bike comes out of service and looks gorgeous, CJ likely had a hand on it. He is thrilled to work for Harley-Davidson which as he puts it, is the flagship brand of motorcycles. We agree and think CJ is the flagship of work ethic at H-D of Dallas. When he's not working hard for H-D, he's working hard for himself with intensive Parkour and Mountain Climbing training.
Service Advisor
Brandon B.
With a love for numbers Brandon grew up wanting to be an accountant, but eventually came to Harley-Davidson of Dallas instead and has been with the company over 10 years. Brandon lives the fast and furious lifestyle when making sure that nothing gets between him, his kids, Fantasy Football, and his pizza. Brandon is committed to giving you the best experience at Harley-Davidson of Dallas.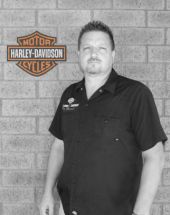 Service Advisor
Shane
Another one of our lifers, Shane has been riding for over 4 decades. He's come a long way since, the age of 6 on his 76 Honda MR50 and now enjoys his Performance Mod loaded Street Glide; no frills, all horsepower for this guy. If you're looking to increase the performance of your Harley, this is the man to talk to. When he's not at the dealership, find him riding, hunting, or working on his muscle cars.
Service Technician
Jeremy
While not exactly the most gracefully man in the shop Jeremy dreamed and still does dream of being a ninja on the side when not elegantly stuffing his face full of sushi. True to his hobbit lifestyle Jeremy would love to travel to New Zealand to meet all the little people of the Shire. Jeremy strives to provide the best service to our customers on a daily bases.
Service Technician
Nichols
Nicholas' nickname could be Motorhead... he eats, breaths and dreams mechanically. He attended MMI to work on late and early model Harley's, he owns 3 motorcycles, likes racing r/c cars and if he won $1,000,000, he would build his dream garage.
Service Tech
Derek
Born and raised right here in Allen, TX Derek has definitely lived up to his childhood wish by not becoming a failure when he graduated from Texas State Tech College and got a job at Harley-Davidson® of Dallas. In Derek's free time his is achieving another lifelong goal of becoming a pinball wizard.
Service Technician
David
In the words of Alice Cooper, "I ain't evil, I'm just good lookin" are the words that David lives by on a day to day bases. On his off days, David can be seen cruising down the street on his Softail banging his head to Motorhead, playing vids or watching Ash vs. Evil Dead.
Service Technician
Cy
Cy specializes in sarcasm and puns, but works tirelessly as one of our service technicians. In Cy's free time he enjoys it constantly changing diapers on his kid and riding his one of a kind 1996 Road King.
Service Advisor
MARTY
Marty has been with our team for a year now. He is a valued member of our service crew. Marty went to technician school in Ft. Scott CC for their Harley-Davidson® program. When Marty is not being an exceptional Service Advisor he is home hanging with friends, playing video games, and dancing naked. Marty is a great addition to our team.
Service Advisor
Yeshua
Yeshua is an avid MMA fighter! He loves his family. He has a fierce passion for Harley-Davidson®. His service specialty is Warranties so if you are needing some help in that department give him a call. He is also Bilingual!
Service Technician
Austin
Austin loves surfing and hanging on the beach. When he isn't working on Harley's he is chasing his dream of Surfing with Sharks. His ultimate goal in life is to swim with the dolphins. He collects seashells and sea horses that have been dried from the ocean.
Texas Builder
Shane
Shane makes it all happen behind the scenes! We cant wait for his calls, because it means there is a new Harley-Davidson® Motorcycle coming our way! Thanks Shane for all the hard work!
Administration
Accounts Payable
Mel
Melanie was driven to Harley-Davidson of Dallas after purchasing the bike of her dreams an Ultra Classic. When Mel's not spending her free time with her 3 kids and husband she is riding her bike, dreaming of going to Scotland, and binge watching Stanger Things.
Owner & Operator
Paul Langford
Paul has been working in the Motorcycle Industry for decades with a history and passion for racing. In 2010 he found himself in a position to join the Harley-Davidson Family with his own dealership and jumped at the opportunity without a moment's hesitation. Driven by the brand's extensive legacy and his personal attachment to the lifestyle, he knew he would be happy with a career focused on Making Dreams Come True. He rides a diverse line of motorcycles but one of his favorites is his 2013 Road King. It's a New School ride in Old School style with 16 Gangster Apes, Fishtail Exhaust, and Slammed/Spoked Wheels.
Office Manager
Leeann
A true pro at the Harley-Davidson Lifestyle, this fine woman hopped on the back of her first motorcycle over 25 years ago. These days she rides 2-Up with her husband on their 2013 Ultra Limited and she still enjoys every minute in the wind. After years as a loyal customer, she was recruited to the H-D of Dallas team and no one has regretted it since. They say every dealership has a momma bear, meet ours.
Maintenance
Leo
As a young child, it was Leo's dream to become a biker roaming the U.S.A. He is slowly making his dream come true on his Sportster, but with a million dollars he would ride his way to Colorado where he would buy a tiny house. Leo enjoys spending his time traveling on his bike and cooking as he is a dedicated Le Cordon Bleu Chef…next time you're here ask him to cook you up something special.
Marketing
Marketing Director
Amanda
Amanda loves her family and is an avid reader. She spends her days at the dealership learning everything she can about Harley-Davidson® so she can educate the public on all the new and exciting changes!
Business Operations
The Conductor
Tony D
It was time for Tony to leave the corporate world and trade in his PC for a HD motorcycle in Feb 2017. Tony went from being a business and IT management consultant to a Business Operations Liaison where he participates in many aspects of the HD of Dallas world. He handles the IT problems, assists with marketing, helps the sales team, and performs "walk-arounds" to explain the features and functions of the customers motorcycle. Bottom-line: he orchestrates the resolution of problems!
---
Meet our Team at Harley-Davidson® of Dallas in Allen! Our goal is to ensure our customers become a part of the Harley-Davidson® of Dallas family when they walk through our doors. We want to make sure we have met your needs in all departments including sales, parts, clothing and service. By doing this we hope to continue to earn your business to keep you happy out on the open road.